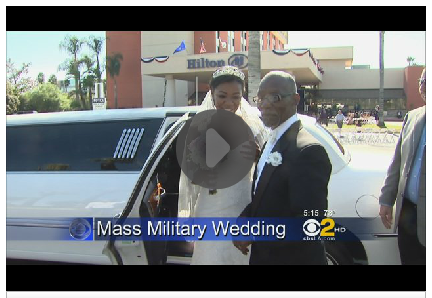 ONTARIO (CBS) —Ten military couples got married in Ontario Saturday.
While lovely in and of itself, it wasn't the weddings that were news or noteworthy.
Businessmen in Ontario donated all the dresses, flowers, limos, receptions for 30, chairs, you name it…to give these couples who have sacrificed so much — a way of saying "thank you."
They called it "Operation Cupid" and they did everything for the brides and grooms but introduce the couples in the first place.
Joy Benedict, reporting for CBS2 and KCAL9, found all the usual trappings…fancy gowns, nervous grooms, petals strewn everywhere, excited guests, a banquet.
But that's where the similarities to typical weddings made these stand out.
Lashonda Davis, a lieutenant in the US Coast Guard, told Benedict that she was "very nervous. I think I'm going to faint."
Davis held it together long enough to thank those responsible for her special day. "I'm so nervous and so excited and so blessed…that all these volunteers have come together…they took such a load off. I appreciate is so much."
Alison's Bailey's husband was deployed five times — making wedding planning no easy task. The two originally tossed together a quick ceremony at the courthouse, but today her father got to walk her down the aisle.
Her fiance said "This is kind of a big deal for her and her family. I'm just happy she's happy. That's the most important thing."
Bailey, modestly, said she was overwhelmed that the business folks of Ontario cared so much. "We are nobody special," she said. "So why would people do this? And then I think of how much time my husband spends in Afghanistan and Iraq and he truly deserved to feel special for a day."
Organizers for "Operation Cupid" told Benedict they also hoped other cities would pick up this idea so that other military families, especially those in financial need, could get the chance to say "I do."