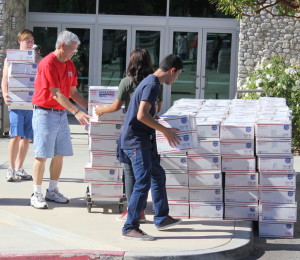 Preparation:
Fri, May 12th 6-8 pm
Packing date:
Sat, May 13th

Time:
8 am – 1 pm
Location:
Hillside Community Church
5354 Haven Ave,
Rancho Cucamonga, CA 91737
With all of the work that needs to be done, this date is FAST approaching! In the past, our volunteers have put in a tremendous amount of energy to prepare the packages for the troops and the next date will be just as challenging!
Any questions: Call 909-767-0718
Special Items at packing:
Color Guard
Patriot Guard (requested)
Military Vehicles
Veterans of Current Wars to speak on value of Packages!
It is important to note the following:
Time: 8:00 am to 1:00 pm
Location:
Hillside Community Church
5354 Haven Ave,
Rancho Cucamonga, CA 91737
Each box is valued at approximately $50
It costs $16 to ship each box
We will need $16,000 for the next shipment in November 2016
This means it is as important as ever to get your participation and your support! Please contact the OCC Team to let us know how you can participate!