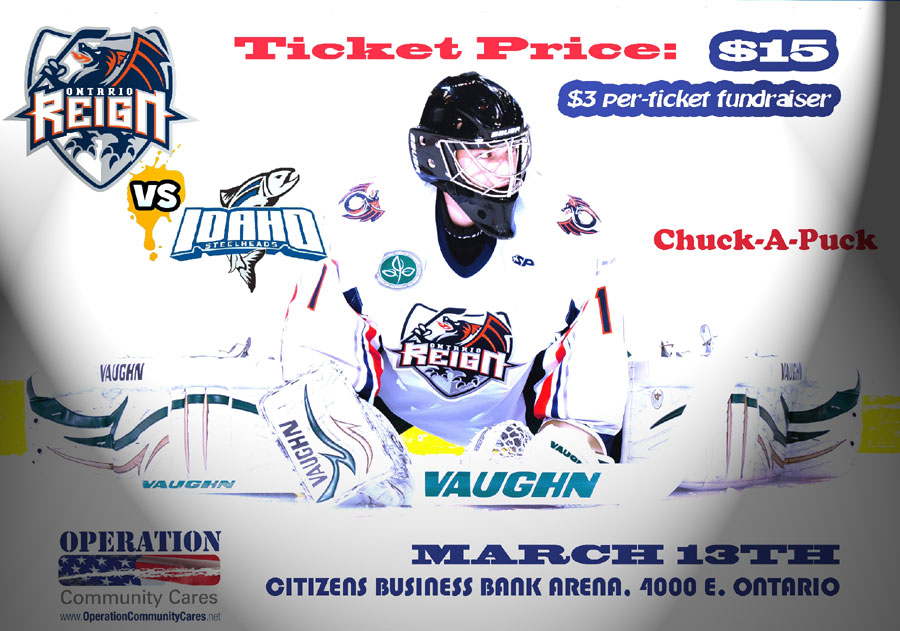 Operation Community Cares & Local Real Estate Community Unite To Support our troops!
Date: March 13th, 2012
Time: 7 pm Start
Price: $15 pp
How you can help
Purchase Tickets, Spread the word, Re-Blog, or sign up to sell 10 tickets… or make this an office event today!
Proceeds go towards Operation Community Cares to support troops deployed overseas, and their families here at home.
CHUCK A PUCK
Pucks sell for about a $1 each. Attendees throw them on the ice in between periods for a chance to win prizes.
We have also earned the opportunity to be the Chuck a Puck at this game. We will be looking for Volunteers to helps us co-ordinate, and sell the pucks at the game. If you or your group is interested in helping, please let me know.
Far too often, the commitment of our service people is forgotten and OCC specializes in programs that help service people to communicate and connect with family, friends and loved ones through the unique web-based environment.We have various programs that aim to support the troops' personal needs. From an online message center, to a photo album, to a place to donate various items to and for our troops. Best of all, OCC carries it's commitment to service people that are at home as well. For some, returning home can be a very trying and stressful experience. We want to see our troops get the very best and we are committed to this very idea. Please feel free to click around our site and please, take a moment to consider giving to OCC as we support the very people who protect our freedoms every day!
Operation Community Cares is an organization that proactively supports the health and welfare of our American Servicemen and Women across the globe.