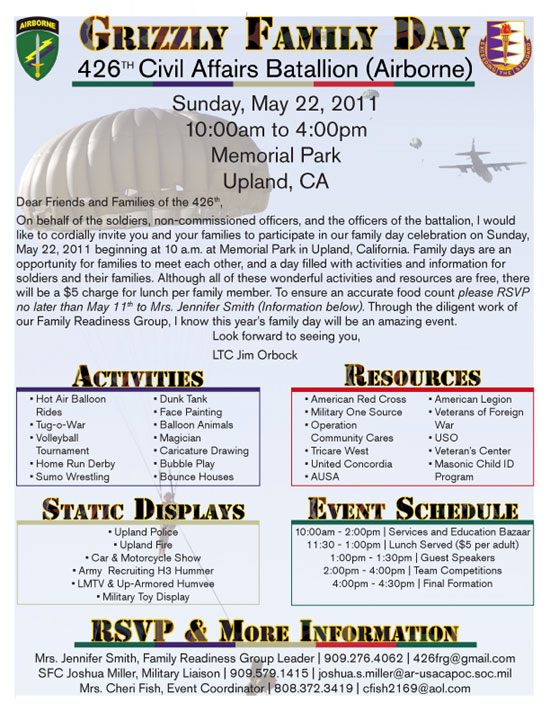 Grizzly Family Day 426th Civil Affairs Batallion Airborne
Sunday May 22, 2011
10:00 am – 4:00 pm
Memorial Park
Upland, CA
On behalf of the soldiers, non-commissioned officers, and the officers of the battalion, I would like to cordially invite you and your families to participate in our family day celebration on Sunday, May 22, 2011 beginning at 10 a.m. at Memorial Park in Upland, California. Family days are an opportunity for families to meet each other, and a day filled with activities and information for soldiers and their families. Although all of these wonderful activities and resources are free, there will be a $5 charge for lunch per family member. To ensure an accurate food count please RSVP no later than May 11th to Mrs. Jennifer Smith (Information below).
Through the diligent work of our Family Readiness Group, I know this year's family day will be an amazing event.
Look forward to seeing you,
LTC Jim Orbock
ACTIVITIES
• Hot Air Balloon Rides
• Tug-o-War
• Volleyball Tournament
• Home Run Derby
• Sumo Wrestling
• Dunk Tank
• Face Painting
• Balloon Animals
• Magician
• Caricature Drawing
• Bubble Play
• Bounce Houses
STATIC DISPLAYS
• Upland Police
• Upland Fire
• Car & Motorcycle Show
• Army Recruiting H3 Hummer
• LMTV & Up-Armored Humvee
• Military Toy Display
RESOURCES
• American Red Cross
• Military One Source
• Operation Community Cares
• Tricare West
• United Concordia
• AUSA
• American Legion
• Veterans of Foreign War
• USO
• Veteran's Center
• Masonic Child ID Program
EVENT SCHEDULE
10:00am – 2:00pm | Services and Education Bazaar
11:30 – 1:00pm | Lunch Served ($5 per adult)
1:00pm – 1:30pm | Guest Speakers
2:00pm – 4:00pm | Team Competitions
4:00pm – 4:30pm | Final Formation

RSVP AND MORE INFORMATION
Mrs. Jennifer Smith, Family Readiness Group Leader | 909.276.4062 | 426frg@gmail.com
SFC Joshua Miller, Military Liaison | 909.579.1415 | joshua.s.miller@ar-usacapoc.soc.mil
Mrs. Cheri Fish, Event Coordinator | 808.372.3419 | cfish2169@aol.com