2011-09-28 / Local News
by ANDREA KIMBRIEL
Editor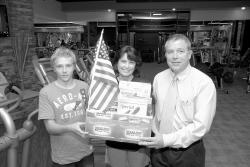 Matthew Dewes, left, Janet Gosch, owner of Discover Golf & Fitness Center in Clarence Center, and Gerry Dewes display the box used to collect items for care packages sent to troops in Afghanistan and Iraq. Photo by Jim SmerecakPurchase color photos at www.BeeNews.com
Matthew Dewes is heading up an effort to create and send care packages to troops serving in Afghanistan and Iraq.
The 14-year-old Clarence High School freshman is the Buffalo Chapter director for Operation Community Cares, an organization based in California that provides help to members of the military.
Matthew heard about Operation Community Cares from his father, Gerry Dewes, president of Sunbridge Management Inc., and thought it was cool. He wants to go into the Marines when he gets older.
He said he's been able to collect enough items to fill 30 boxes this summer.
Gerry Dewes said things such as Slim Jims, beef jerky, gum, crackers and good underarm deodorant can be hard for the troops to come by when they're abroad.
The organization's website, www.operationcommunitycares.org, lists other suggested items, such as oatmeal packs, granola bars, coffee, razors and insect repellant. It also offers the opportunity for people to "Adopt a Soldier" and donate in other ways.
Discover Golf & Fitness Center, at 8500 Roll Road in Clarence Center, has collected items throughout the summer. Owner Janet Gosch said she sent out emails to her members describing Matthew's project and letting them know how they could get involved.
"That is all I did. It was absolutely simple. Then our generous members just brought in items daily," she said.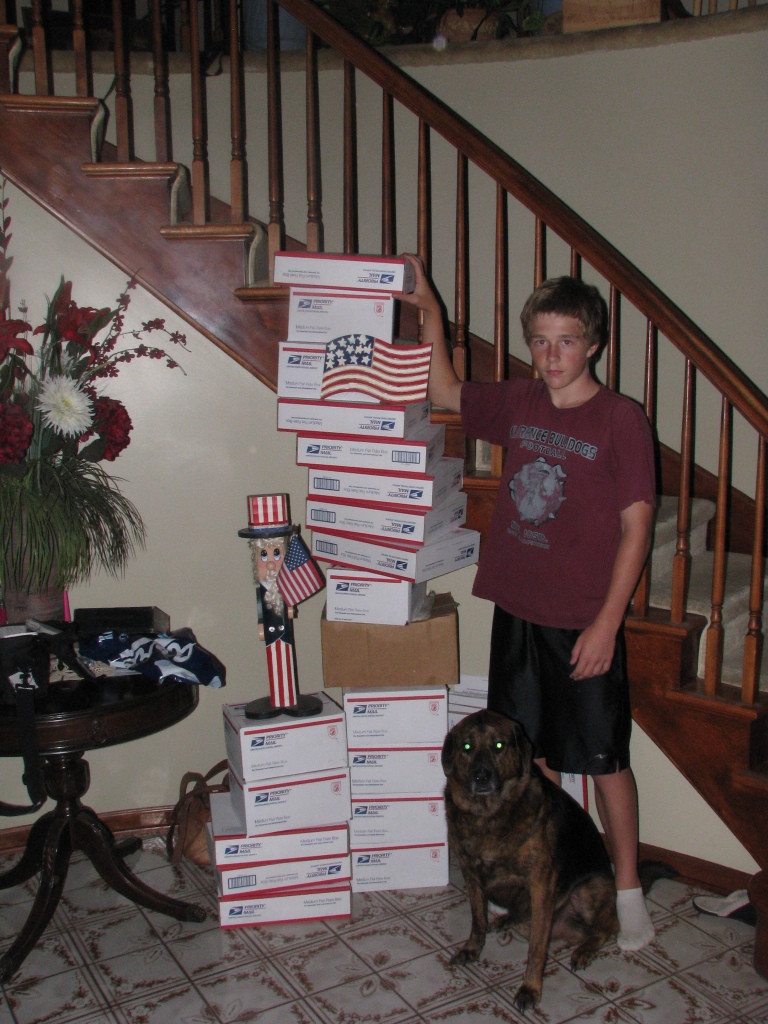 Gosch said many people picked up an item or two as they shopped and then dropped them off in a donation box at Discover Golf. Some also gave money to help defray the cost of postage.
She said the response was overwhelming.
"I think it made everyone feel great to do a little something for our deployed service people," she said.
Gerry Dewes said they could use similar assistance from other businesses and are soliciting suggestions of military personnel serving in Afghanistan or Iraq who could use a care package. He said about three-fourths of the names are provided by Operation Community Cares, while the rest are local. Names and addresses will be kept confidential.
Dewes knows the chairman of Operation Community Cares and said 100 percent of the the all-volunteer organization's proceeds are used to assist the soldiers.
People can visit the website www.operationcommunitycares.org for more information about how to get involved and to contact the organization.
The best part of the project has been the opportunity to assist the soldiers overseas, said Matthew.
Gerry Dewes thanked Discover Golf for being part of the effort.
"Every week or two that box was full all summer long," he said.
Contact Matthew Dewes at dmattocc@aol.com